In Case You Missed Nightline
Oct 17, 2009

ABC's Martin Bashir and Roxanna Sherwood did a piece on NFL brain concussions on Friday night's NIGHTLINE. From their post online:
.
"Football players are getting bigger. The game is getting faster. Now, the chorus of concern is getting louder. At least four recent studies have raised serious questions about the impact of pro football on the brains of players. But are they being driven mad by the game?
.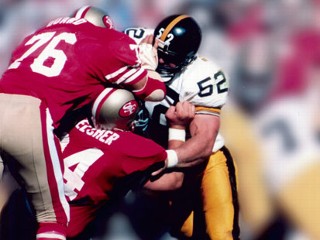 Research finds that high-impact football may lead to brain injuries.
(Courtesy Garrett Webster)
.
"Garrett Webster treasures every memory of his father, legendary Pittsburgh Steeler Mike Webster.
>>>
"These [rings] are, I guess you could say what my dad got back for giving his life, three Super Bowl rings and a Hall of Fame ring," Garrett Webster said. "My dad was everyone I wanted to be. I mean he was smart, funny and he was caring and loving. To me he was Iron Mike. …""
>>>
Read the rest of that story – click HERE.
.
Here's the video from Nightline:
.

>>>
Posted by
RobertinSeattle
| Categories:
News
| Tagged:
ABC
,
ABC News
,
Charles Gibson
,
Concussions
,
Dave Pear
,
Do No Evil
,
Dr. Bennet Omalu
,
Dr. Julian Bailes
,
Martin Bashir
,
Mike Webster
,
NFL
,
NFLPA
,
Nightline
,
RobertinSeattle
,
Roxanna Sherwood
|